Campsites with water park and heated indoor pool
You want to enjoy the pool during your vacations? Located next to each other near Royan and La Palmyre, the 4-star campsites Eldapi, La Ferme and L'Écureuil, offer you the possibility to enjoy a large common aquatic space and many animations and games. Paddling pools, slides, water jets… The pools of the two establishments will delight children and adults alike.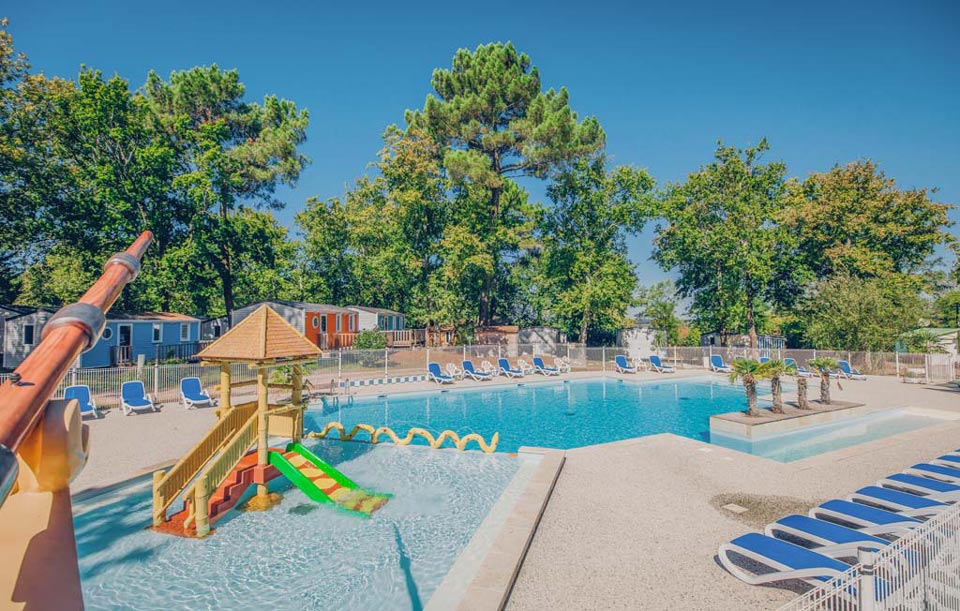 The aquatic area: a paradise for young and old
Depending on your mood of the day, choose the water park of your choice. The little ones will love to splash around and have fun in the heated wading pool. The brand-new, beautiful aquatic area with its many water jets is appreciated when the temperature is high. It's so nice to cool off with the water games!
Longs de 5 mètres, les toboggans vont être une des activités favorites de vos enfants lors de votre séjour. Ils vont aimer faire des glissades et les dévaler à toute vitesse. Pas d'inquiétude, vous pouvez garder un œil sur eux tout en vous prélassant sur les transats autour des bassins.
Enjoy the indoor pool in Charente-Maritime
At the campsite La Ferme, near Royan and La Palmyre, you have the possibility from April to enjoy the aquatic pleasures in a heated and covered pool. The water temperature, between 24 and 28°, is ideal. The little ones can play their favorite games in the covered paddling pool without fear of catching cold.
Rain or shine, you can enjoy the pools throughout your stay. No more capricious weather! In the morning, the pools are a little less crowded and are available for people who want to do a little exercise. The more athletic ones can do some swimming or muscular exercises.
During your family vacation, take time to relax and lounge. Whether indoors or outdoors, the pool will become your favorite place. Water lovers can also enjoy the pleasures of the sea. Discover also the beaches near the campsite. There is no doubt that you will have an excellent vacation in Charente-Maritime.
Our rentals and the opinions of our customers